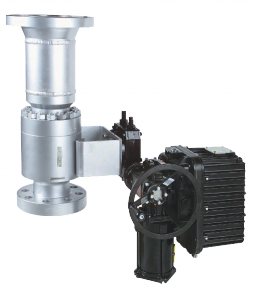 The sky vent application is one of the most critical applications within a combined cycle power plant. Valves in this application control the ramp rate of the HRSG, ensuring plant piping and equipment do not rise in temperature too quickly; thus protecting plant equipment from thermal induced stresses. Sky vent valves are required to withstand full process pressure and are installed in the highest-cost energy systems in the plant. If these valves do not isolate fully, high-cost energy passes directly to the atmosphere, decreasing plant efficiency during all hours of plant operation. In this application, the ability to isolate with Zero-leakage is critical.
To address these issues high-temperature, high-pressure, extreme noise and absolute tight shutoff during initial operation of combined cycle plant start-up, ValvTechnologies offers the sky vent valve. The ValvTechnologies' sky vent valve offer the best isolation technology for isolation-critical service with the best manufacturing backing in the industry.
ValvTechnologies' sky vent design features offer higher capacities (Cv) than competing globe valve designs of the same nominal size, allowing ValvTechnologies to offer a customer savings in piping and valve costs. Our valve design also provides a less torturous flow path than competing globe valve designs, mitigating noise abatement issues.
Click here for ValvTechnologies' Sky Vent valve brochure