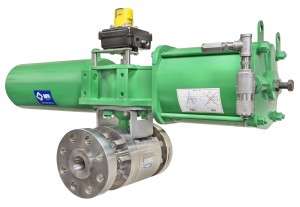 ValvTechnologies has established itself as a leader in the trend in the process industries toward greater utilization of trunnion-mounted, metal-seated ball valves for isolation and control in critical applications.  As a global leader in the design and manufacture of severe service metal seated ball valves since 1986, ValvTechnologies introduced the NexTech® trunnion ball valve to the market in 2005 as a tight shut-off (Class V and VI), bi-directional, low-torque, low-emission product. Since that time, the application list has grown to include high-speed, high-cycle isolation, emergency shutdown (ESD) and vents, oxygen service, high-temperature services, etc.  Valves are available in ANSI/ASME Class 300 – 2500 and in sizes from 2" up to 30".
The keys to the success of this US manufactured product is in the very high actuation safety factors allowed by the design and the flexibility in materials of construction and sealing surface coatings. While the product is offered in stock configuration as carbon steel and 316SS, many combinations are available including  347H, Hastelloy® C-276, duplex stainless, Inconel® 600 and 625, Incoloy® 800H, etc. ValvTechnologies also has the in-house capability to perform NACE compliant weld overlays and can offer significant savings to our customers in cases with corrosive or erosive services where low-alloy body material can be utilized with overlays for protection.  The valve features include API 622 certified EcoPack™ Low-E (low emission) packing and compliance with API 591, API 608, API 598, etc.
Recent significant orders for NexTech® products have been delivered for a very large coal/coke gasification project in Northern India, ESD valves in petrochemical plants in south Louisiana, oxygen service in South Korea, catalyst handling valves in Europe and the US, solids "lockhopper" service in Eastern Europe and polymer isolation in many parts of the world.