2014 Annual NUOG Meeting
July 21, 2014 – July 23, 2014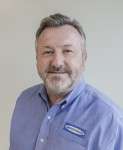 Bill Henwood has been an integral part of the ValvTechnologies senior management team since October of 2007 and has over 35 years in the valve industry.  Prior to his current position, he spent 11 years in various sales management positions with the Curtiss Wright Flow Control Corporation.
Bill is responsible for ValvTechnologies' overall day-to-day nuclear business. His responsibilities also include the implementation of their Nuclear Programs which includes their 10CFR50 Appendix B and the ASME Section III "N" and "NPT" Authorizations.
Bill will be presenting at the Nuclear Utility Obsolesce User Group annual meeting on July 22 on Obsolescence Solutions for Vent Drain and Isolation Applications in Nuclear Plants.
Designed for throttling and largely used in the subject applications, globe valves are one of the most misapplied valves in the power generation industry. Definitionally, globe valves are technologically obsolete in many of their uses in the power industry. The Nuclear Utility Obsolescence Group's mission is to share information and solutions to the daily issues surrounding the successful operation of nuclear power plants.  The use of quarter-turn valves in both high-pressure and temperature applications in the nuclear industry is a favorable solution to obsolescence and misapplications.
Bill will explore the quarter-turn valve design, comparing them to globe valves of similar sizes and pressure classes. More importantly, he will share examples of how and where this technology has improved plant operations, reliability and increased megawatts.
Headquartered in Houston Texas, ValvTechnologies is a multinational manufacturer of severe service metal-seated ball valves for vent, drain, isolation and control applications, parallel slide gate valves and non-slam Inline check valves.
The Westin Jersey City
479 Washington Boulevard
Jersey City, NJ 07310 United States
+ Google Map