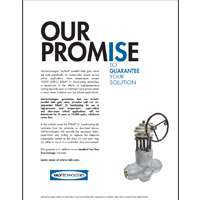 ValvTechnologies, Inc., the global leader in the design and manufacturing of severe service zero-leakage valves, was featured in the February 2019 issue of Combined Cycle Journal (CCJ). In this issue, CCJ spotlights ValvTechnologies' Delamination Guarantee of its IsoTech® parallel slide gate valves.
"ValvTechnologies guarantees that our IsoTech® parallel slide gate valve, provided with our recommended RiTech® 31 hardcoating for use in high-pressure and temperature, super-critical and ultra-super critical applications, will not delaminate for 10 years or 10,000 cycles – whichever comes first."
To read the CCJ article in its entirety, click here.
To learn more about the Delamination Guaranty, click here.