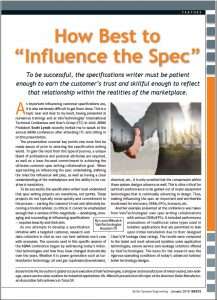 Laura Mikovich, ValvTechnologies' Global Account Manager, was recently featured in the January 2019 edition of HPAC Engineering. Her presentation, "How Best to Influence the Spec", was a special topic at the American Boiler Manufacturers Association's fall conference.
"To be successful, the specifications writer must be patient enough to earn the customer's trust and skillful enough to reflect that relationship within the realities of the marketplace."
Click here to read the article in its entirety.