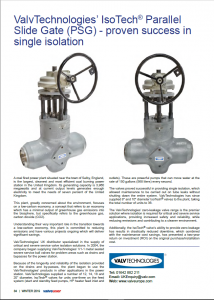 ValvTechnologies was recently featured in the Winter issue of Valve User Magazine. The article, "ValvTechnologies' IsoTech® Parallel Slide Gate – Proven Success in Single Isolation," details a case study in which ValvTechnologies' UK distributor, provided solutions for a power plant greatly concerned about the environment.
"A coal fired power plant situated near the town of Selby, England, is the largest, cleanest and most efficient coal burning power station in the United Kingdom. Its generating capacity is 3,960 megawatts and at current output levels generates enough electricity to meet the needs of seven percent of the United Kingdom."
Click here to read the article in its entirety.
To learn more about ValvTechnologies' Delamination Guarantee, click here.