FOR IMMEDIATE RELEASE
Contact: Julie Bodine
Director of Global Marketing
P 713.715.5546 F 832.564.8739
jbodine@valv.com
ValvTechnologies, Inc. ValvTechnologies Extends Bi-directional Sealing Feature to 5/8" Bore Valves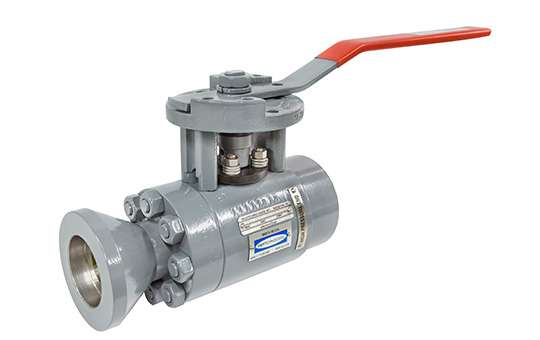 HOUSTON – ValvTechnologies, Inc., manufacturer of Zero-leakage severe service isolation valve solutions, today announced the extension of bi-directional sealing technology to its 5/8" bore V Series high-performance metal seated ball valves.
ValvTechnologies' 1" and larger V Series valves have always had bi-directional sealing ability: this superior capability has now been extended to 5/8" bore valves. Designed to provide 100% zero-leakage for customers in the fossil power and nuclear generation markets, this is the original fully bi-directional, zero-leakage metal seated ball valve on the market.
The bi-directional design prevents the upstream load spring from collapsing in a reverse flow or back pressure condition. The design ensures the integrity of the seating of the high pressure end subsequent to any reverse flow condition, guaranteeing tight shutoff in the reverse direction after an upset condition. Most metal seated ball valves are a uni-directional design specifically targeting globe valves. ValvTechnologies' V Series designs can be utilized in bi-directional applications where gate valves are used without the worry of internal damage typical of other metal seated ball valve designs.
ValvTechnologies' V Series 5/8" bi-directional valves can be used in severe service applications in fossil power and nuclear generation, as well as any industry where a combination of zero-leakage and bi-directional functionality is a benefit by improving the performance, reliability and the safety of a plant.
"Expanding bi-directional flow capabilities to 5/8″ V series valves will have a great impact non only in the power industry, but many industries as customers can benefit from the design feature," said Kevin Hunt, President and Founder of ValvTechnologies. "Customers will see a significant reduction in failures on a variety of valves including boiler feed recirculation valves, feedwater heater isolation bypass valves and feedwater isolation bypass block valves."
Customers benefit from ValvTechnologies' bi-directional metal seated ball valves of every size by realizing increased security, less downtime and lower maintenance. During an upset condition, the process flow can be unpredictable and, in most cases, the performance of the equipment that experienced the upset is jeopardized. With the ability to handle pressure in both directions, only ValvTechnologies' bi-directional severe service valves will remain reliable and low maintenance.
This product is exclusive to ValvTechnologies.
---
About ValvTechnologies
Founded in 1987 and headquartered in Houston, Texas, ValvTechnologies is the leading manufacturer of zero-leakage, severe service isolation valve solutions. Employing more than 500 people worldwide, our offices are located in the United Kingdom, Mainland Europe, China, Middle East, India, Australia and South America. In addition, ValvTechnologies partners with stocking distributors and independent representatives to service customers around the world.  To find out more about the products and services offered or to locate a representative, visit our website at www.valv.com.
#