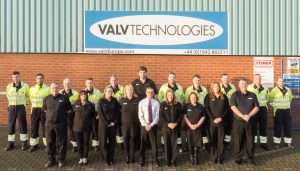 Stockton-on-Tees, UK – ValvTechnologies Europe, the leading service provider for control, safety relief, parallel slide gate and manual valves across Europe, Africa and the Middle East, announced today that the company reached five years without a lost-time injury. This achievement for the company, which employs more than 10 valve service mechanics and 12 office staff, marks a major safety milestone in the promotion of and focus on health, safety and the prevention of accidents across the organization.
General Manager, Benny McCallum, said this accomplishment is a testament to ValvTechnologies Europe's employees who are resolute in their beliefs that health, safety and environment are vital in successful operations. "We are extremely proud of our employees for this considerable accomplishment," McCallum said. "The attention and training that are needed to reach this achievement takes an enormous amount of time and resources, but the results of a safe workplace are well worth the effort."
This accomplishment is even more impressive when you recognize that ValvTechnologies Europe's employees kept their safety focus while operating and working around heavy equipment, managing hazardous materials and performing services for oil and gas, fossil power and nuclear power companies across the UK. "Achieving five years without a loss time incident requires making deliberate choices each and every day," McCallum continued. "I'm grateful for our employees' commitment to safety and look forward to a sixth year without a lost-time accident."
About ValvTechnologies Europe
ValvTechnologies Europe is is a trading name of MCE Group plc and a wholly-owned subsidiary of ValvTechnologies, Inc. The company provides a complete range of valve services and supply, including severe service valves, for demanding applications. ValvTechnologies Europe serves clients 24-7 in many countries around the world, onshore and offshore – with primary focus in Europe, Middle East and Africa. The association with ValvTechnologies expands its reach to OEM field services for major ValvTechnologies' product installations worldwide. ValvTechnologies Europe is also is a Fisher Control Valve Authorized Service Facility and performs in-line diagnostics through to complete OEM repair service.  MCE has earned PED accreditation for assembly/refurbishment and testing of high performance, zero leakage, metal seated ball valves and control valve repair and management service; it has also been ISO 18001 certified since 2012.
About ValvTechnologies
Founded in 1987 and headquartered in Houston, Texas, ValvTechnologies is the leading manufacturer of zero-leakage, high-performance isolation valve solutions. Employing more than 500 people worldwide, our offices are located in the United Kingdom, Mainland Europe, China, Middle East, India, Australia and South America. In addition, ValvTechnologies partners with stocking distributors and independent representatives to service customers around the world.  To find out more about the products and services offered or to locate a representative, visit our website at www.valv.com.