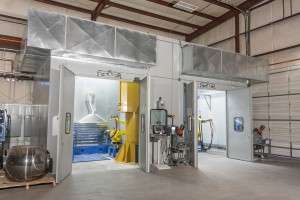 HOUSTON – ValvTechnologies, Inc., manufacturer of Zero-leakage severe service isolation valve solutions, has expanded the company's existing in-house coating capabilities by purchasing two additional state-of-the-art robotically integrated spray booths. Coupled with more than 35 years of thermal spray experience, these new capabilities will ensure the company can optimize product flow and quality to meet production demands. Additionally, the company is hiring a staff of more than 10 spray technicians, providing thousands of hours of training and has developed and implemented leading edge procedures that have been proven to work exceptionally well.
The HVOF thermal spray coating process increases the performance and operating life of ValvTechnologies' products which are subject to severe service conditions by increasing erosion resistance, wear resistance and abrasion/corrosion protection. ValvTechnologies has developed a proprietary compressive spray technique which results in significantly higher bond strength and will better be able to control the quality of our process, reduce costs and improve lead times providing our customers with faster turnaround, a longer-lasting product, cost savings and higher bond strengths in the form of compressive coatings.
"This was a long-term goal for our company," said Chris Jones, ValvTechnologies' Production Manager. "We will be able to provide a higher-quality, longer-lasting product without increasing costs."
Benefits of HVOF coating:
Improved quality
Abrasion/corrosion protection
Improved wear resistance
Improved performance
Ability for components to operate in higher and/or lower temperatures
Ability to operate in the most severe service applications
Improve efficiency
ValvTechnologies leads the industry with our unparalleled in-house coating capabilities. By continually improving and upgrading equipment ValvTechnologies' ensures our products are manufactured to the highest level of quality and reliability as required not only by ValvTechnologies, but each industry we serve and our highly-valued customers. Additionally, this investment in new technology, machines and staff allows us the unmatched capability of bringing HVOF entirely in-house, thus reducing lead times and significantly increasing quality. This commitment to improvement allows us to build firm partnerships with customers and confidently meet their requirements on time and within budget.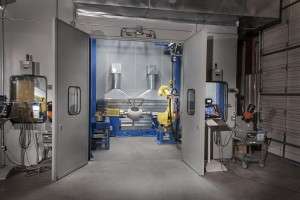 About ValvTechnologies
Founded in 1987 and headquartered in Houston, Texas, ValvTechnologies is the leading manufacturer of Zero-leakage, severe service isolation valve solutions. Employing more than 500 people worldwide, our offices are located in the United Kingdom, Mainland Europe, China, Middle East, India, Australia and South America. In addition, ValvTechnologies partners with stocking distributors and independent representatives to service customers around the world.  To find out more about the products and services offered or to locate a representative, visit our website at www.valv.com.
#