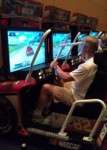 ValvTechnologies, the global leader in the design and manufacture of severe service, zero leakage valves, is showcasing our industry-leading solutions at the upcoming PowerGen International (PGI) show in Orlando, Florida, November 12-14. Visit us at booth 3101 to learn more and to race other attendees in our Nascar Simulator*. The top scores will win a $500 gift card.
Don't miss out – race to the ValvTechnologies booth!
Brief presentations will be held at the booth discussing the following topics:
The ValvTechnologies V Series seat-supported, severe service metal-seated ball valves offering reliable maintenance-free operation and a four year leakage warranty for power industry applications
Our 3/8" bore V1-1 valve – all the benefits of the larger sized valves but a greatly reduced weight and size – useful in virtually any instrument application or where zero leakage is needed and space is a problem
The ValvTechnologies Parallel Slide Gate Valve (PSG) valve, the result of years of practical design enhancements, eliminating the limitations of typically accepted norms in gate valve design.
Our Fukushima FLEX Project initiatives utilizing a combination of ValvTechnologies industry-leading zero leakage isolation valves, as well as our ValvTechnologies/DFT in-line check valves, ensuring years of safe and reliable operation.
Rhinoite®  Tungsten Carbide hardfacing – minimizes loss of production time by wearing five to seven times longer in service operations than bare metal, reduces number of shutdown times to years rather than months, improves safety by reducing the risk of equipment failure and much more
The XACTROL® severe service control valves are accurately engineered for applications where minimum flow and relatively high differential pressures are required.
VALVXPRESS™ – for customers who demand quick delivery of a Zero-leakage automated valve solution for severe service water and steam applications
And other ValvTechnologies products and services!
[divider scroll_text="SCROLL_TEXT"]
*The Nascar Simulator features a 42″ high definition screen and full surround sound to make it one of the best racing simulators available today.  Participants choose one of twelve popular Nascar drivers and select one of the six Nascar tracks across the country.  The top score on November 12 and 13 will win a $500 American Express gift card from ValvTechnologies. Winners must pick up their gift card at the ValvTechnologies booth during PowerGen.