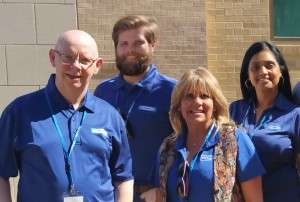 HOUSTON, TX – ValvTechnologies, Inc., the global leader in the design and manufacture of Zero-leakage high-performance isolation valve solutions, recently hosted a student visit to Texas A&M University's Physics and Engineering Festival.
Since its inception in 1987, ValvTechnologies has played an important role in the Houston community. In addition to significant charitable activities advancing the causes of organizations including Avondale House, Texas Children's Hospital, Salvation Army Angel Tree program, Camp Eagle and others, ValvTechnologies supports local institutions of higher learning including Texas A&M, Rice University and the University of Houston.
On Saturday, March 28, ValvTechnologies, in partnership with Bible Way Fellowship Baptist Church, hosted the visit of a group of teenage students to Texas A&M University's Physics and Engineering Festival. The students engaged in a multitude of hands-on experiments and fascinating physics and engineering displays. These budding engineers and scientists had a great day. Not only was it hugely educational, it gave them the experience of visiting a major university campus and interacting with current students and faculty.
ValvTechnologies employees from Human Resources and Engineering departments represented the company on the visit. "Sponsoring events like this continue our long tradition of giving back to the communities in which we do business and promoting youth education," said Edward Ferris, ValvTechnologies' Vice President of Human Resources.
About ValvTechnologies
Founded in 1987 and headquartered in Houston, Texas, ValvTechnologies is the leading manufacturer of Zero-leakage, severe service isolation valve solutions. Employing more than 500 people worldwide, our offices are located in the United Kingdom, Mainland Europe, China, Middle East, India, Australia and South America. In addition, ValvTechnologies partners with stocking distributors and independent representatives to service customers around the world.  To find out more about the products and services offered or to locate a representative, visit our website at www.valv.com, like us on Facebook or follow us on Twitter.
#