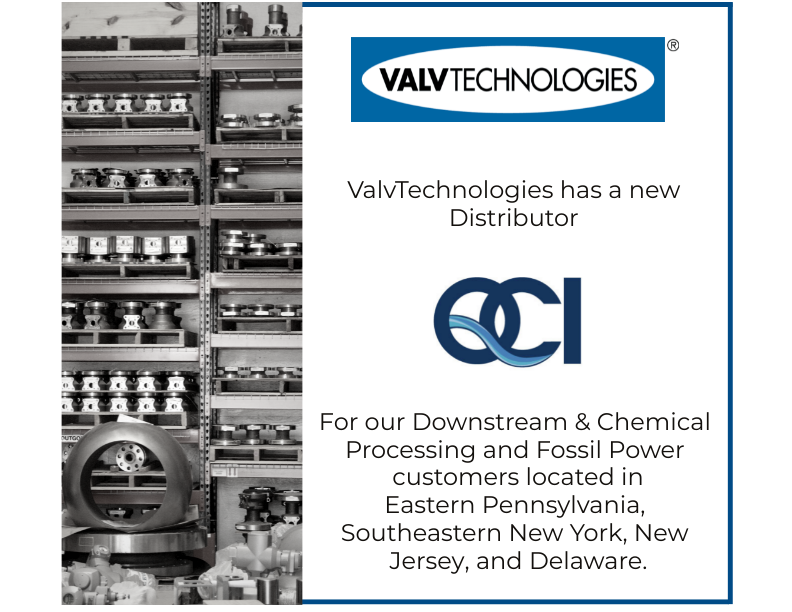 HOUSTON, TX – ValvTechnologies, the leading manufacturer of zero-leakage, severe service isolation valve solutions, welcomes Quality Controls Inc. (QCI) as a new Distributor. ValvTechnologies partners with distributors around the world to provide quick local support.
"We are happy to be working with a company that has a similar commitment to quality and service as we do," said Dan Ellis, ValvTechnologies Regional Sales Manager. "QCI has great experience and reputation with their customers."
"QCI has always focused on solving customer needs, and our customers have some demanding requirements," comments Dave Castellano, Vice President of QCI. "We are very excited to add ValvTechnologies' innovative products to our offering."
About ValvTechnologies
Founded in 1987 and headquartered in Houston, Texas, ValvTechnologies is the leading manufacturer of zero-leakage, high-performance isolation valve solutions providing an unsurpassed level of severe service isolation services and reliability to customers in the fossil power, nuclear generation, upstream oil and gas, downstream and chemical processing, mining and minerals, pulp and paper and other specialized industries.
Employing more than 400 people worldwide, ValvTechnologies has offices in Australia, Bangladesh, Belgium, Brazil, Canada, Chile, China, Colombia, India, Ireland, Japan, Kazakhstan, South Korea, Malaysia, Poland, Saudi Arabia, Singapore, Spain, Sri Lanka, Thailand, Turkey, United Arab Emirates, United Kingdom and United States.
In addition, ValvTechnologies partners with stocking distributors, independent representatives and authorized repair centers to service customers around the world.
About Quality Controls Inc.
QCI is a representative and stocking distributor of flow control equipment, process equipment and process instrumentation. QCI maintains a large inventory of valves, gates, actuators and instrumentation to meet our customers' demanding requirements. Our ability to warranty the material that we sell has earned us high praise from our customers and the owners of the facilities where our equipment is installed.