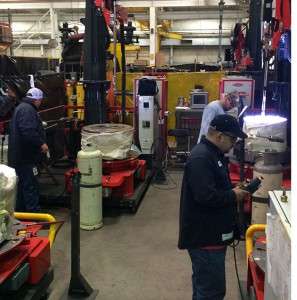 HOUSTON – ValvTechnologies, Inc., manufacturer of Zero-leakage severe service isolation valve solutions, has expanded the company's existing in-house welding capabilities by adding six new state-of-the-art machines dedicated to the welding process including an Arc-5 cladding machine and five Fronius cladders. Additionally, the company has hired a staff of more than 20 welders, provided hundreds of hours of training and developed leading edge procedures that have been proven to work exceptionally well over the last several years of our experience.
Arc-5 Cladding machine
ValvTechnologies purchased and installed the Arc-5 cladding machine more than three years ago. Each of our 21 welders has received hundreds of hours of training, allowing us to ensure the proper use of the equipment. We have successfully completed 3mm weld overlay on valves and parts up to 30".
Fronius cladders
Purchased this year, these leading edge machines are installed and making parts for customers now. We have successfully completed 3mm weld overlay on valves up to 12", 2500 class and parts.
Total welding facility capabilities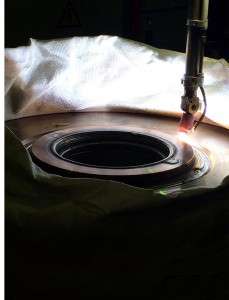 (3) Sub-Arc Cladding
Arc-5 Cladding
(5) Fronius Advance Auto-Cladding Compact Cladding Cells
Fronius Cold Metal Transfer GMAW station with 72" positioner / Hot Wire GTAW Cladding (has dual power sources can be used for either)
Multiple welding stations with positioners
MIG, TIG, FLUX-CORE capabilities
ValvTechnologies leads the industry with our unparalleled in-house welding capabilities. By continually improving and upgrading equipment ValvTechnologies' ensures our products are manufactured to the highest level of quality and reliability as required not only by ValvTechnologies, but also the oil and gas industry and our highly-valued customers. Additionally, this investment in new technology, machines and staff allows us the unmatched capability of bringing welding entirely in-house, thus reducing lead times and significantly increasing quality. This commitment to improvement allows us to build firm partnerships with customers and confidently meet their requirements on time and within budget.
About ValvTechnologies
Founded in 1987 and headquartered in Houston, Texas, ValvTechnologies is the leading manufacturer of Zero-leakage, severe service isolation valve solutions. Employing more than 500 people worldwide, our offices are located in the United Kingdom, Mainland Europe, China, Middle East, India, Australia and South America. In addition, ValvTechnologies partners with stocking distributors and independent representatives to service customers around the world.  To find out more about the products and services offered or to locate a representative, visit our website at www.valv.com.
#