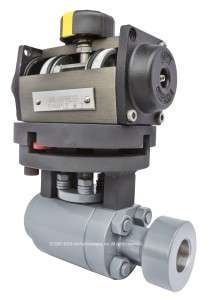 ValvTechnologies' ValvXpress® packages
For customers who demand quick delivery of a zero-leakage automated valve solution for severe service water and steam applications, ValvTechnologies' ValvXpress® package includes the superior quality of the V1-1 valve and ValvTechnologies' actuator, backed with the best four-year warranty in the industry.
ValvTechnologies' proven V1-1 proven integral seat design provides improved performance, far beyond the wear-prone, corrosion-prone crevices of conventional seats. Engineered to eliminate leak paths and maximize direct flow, these units' enhanced rotary design and construction also deliver the extra safety margin crucial to maintaining peak productivity in severe service applications.
ValvXpress® Product Features and Benefits
Quick delivery
Improved operational performance
Decreased downtime
Increased profitability
Turn-key system
Cost-savings through inventory reduction
Single-source solution
Supply chain optimization
Four-year warranty in power applications
The best in the industry. Includes internal seat leakage & external leakage through the packing &/or body seal.
Lower cost-of-ownership
Increased reliability
Through conduit design
No tortuous flow path. When open it has the highest possible Cv's.
Minimized wear & tear
Eliminated vibration
Reduced maintenance
Fixed position – quarter turn
No seating torques required
Minimized stem wear
Lower cost of ownership
Hardened blowout-proof stem
One piece, inserted through the body & shouldered. Eliminates the weak link of collared & pinned designs.
Improved safety
Metallic body seal ring:
Increases body integrity by eliminating external leakage.
Improved reliability
Zero-leakage
Live loaded packing gland
Minimum four bolt configuration with shallow stuffing box. Ensures consistent torque at variable pressures & temperatures.
Increased reliability
Hardcoated and mate lapped seats:
High Velocity Oxygen Fuel – HVOF RiTech™ – chrome carbide hardcoating with a Rockwell C of up to 72. Mate-lapped seats.
Wear & corrosion resistant
Increased reliability
Zero-leakage
Seat designs
Hardcoated, both ball & integral downstream seat to the end-cap to eliminate a potential leak path
Increased reliability
Simplicity of design
Designed for ease of installation & maintenance. Easily actuated.
Increased system reliability
Increased efficiencies
Ease of use
Reduced maintenance
Stringent testing
Every valve is tested, documented and serialized
Increased reliability
Increased safety
Total traceability