Longer Service Life.
Longer valve service life (including superior resistance to abrasive stream flows) means lower repair-and-replacement costs and longer online times: This is just the start of what you get with ValvTechnologies' integral-seat ball valves. The V1 Series' proven seat design provides improved performance, far beyond the capability of conventional seats with wear-prone, corrosion-prone crevices. They are engineered to eliminate leak paths, maximize smooth flows and (when called for) make maintenance and repair easier, these units' enhanced rotary design and construction also deliver the extra safety margin so crucial to maintaining productivity.
[tabs]
[tab title="Design Features"]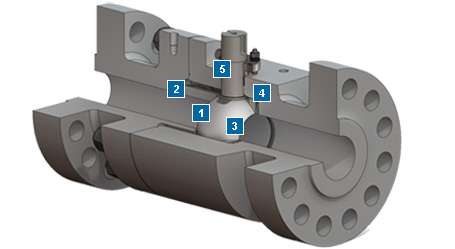 Integral Metal Seat. With our patented Ceramet and Rocket Applied Metallic (RAM) coatings, the integral seat in ValvTechnologies' rotary operating valves are resistant from the attack of abrasive magnetite or ferrous oxides in the steam flow.
Body Seal Ring. ValvTechnologies employs a field proven seal ring technology to ensure sealing under all operating conditions, up to 1400o F. The body seal ring is loaded at a pressure higher than 20,000 psi. In addition, valves sized 3 inch and above contain a secondary Grafoil seal to further guarantee reliability
Patented Coating Process. The sealing surfaces are overlaid with Tungsten or Chromium Carbide using our exclusive RAM® process. These surfaces have a hardness of 68 – 72 Rc to allow long periods of operation in the most severe conditions.
Live Loaded Gland Area. The V1 Series gland packing design features a four stud, live-loaded assembly designed for heavy industrial applications. The packing material is high purity Grafoil® surrounded by Carbon Fiber / Inconel anti-extrusion rings. The six Bellville springs (per stud) provide constant load pressure through extreme thermal shocks and prevent wear leaks in high cycle service.
Blow-out Proof Stem. ValvTechnologies design utilizes a one piece, hard-faced, blow-out proof stem that is inserted through the inside of the body cavity eliminating the possibility of blow-out through the gland area.
[/tab_item]
[tab title="Technical Data"]
Sizes
4 – 36 "
Pressure Classes
ASME / ANSI Class 900 – 2500
Materials of Construction
Carbon Steel (A105) – standard
Stainless Steel (316H) – standard
Alloy Steel
Duplex Steel
Exotic Alloys
Other materials available upon request
In Compliance
ASME B16.34
API 6D
PED
N & NPT – Nuclear Authorized
End Connections
Raised Face Flange – standard
Other end connections available upon request
Options
Construction to API 6A
Purge ports
Bi-directional sealing
Wafer style
Actuator mounting
[/tab_item]