product
Insulation Blankets
ValvTechnologies' custom-design valve insulation blankets are specially designed and fabricated to perfectly fit any ValvTechnologies V Series metal-seated ball valve. Also called valve insulation covers, these time-saving, removable valve blankets are custom-designed to guarantee a tight fit, durability and thermal performance. Insulation blankets keep the utility bill in check while increasing employee safety and plant reliability and productivity. Removable insulation blankets reduce heat loss, saving money otherwise spent on energy.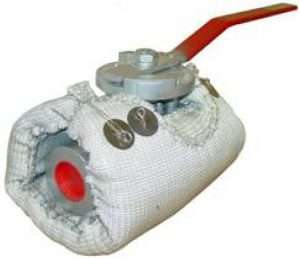 Benefits:
Custom-designed
Made to fit a valve replacement; can wrap the blanket onto replacement valve and tie it off with wire
Excellent thermal barrier
It's most than sufficient for personal protection (no one will burn themselves on an uninsulated pipe/valve)
Saves time and money on small jobs
Less labor hours required to remove and reinstall.
Saves schedule! If you're doing a small job, you're usually trying to back online very quickly.  You don't have to keep everything cool and clear the real estate for another contractor.
Contact ValvTechnologies, Inside Sales at 713.860.0400 for pricing and more information.